Village Time Capsule To Be Opened…What Will Combined Locks Unearth?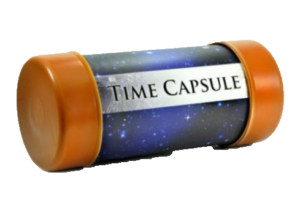 The Village of Combined Locks is celebrating its centennial in conjunction with Paperfest July 15 – July 18 at Memorial Park in Combined Locks. To kick off the centennial celebration, the time capsule will be opened at the Village Board meeting scheduled for 6:30pm on Tuesday, June 15, 2021. Did you or another family member add items to the time capsule in 1970 or 1995?
Join us and find out!
---
Historical Perspective: 2003
The Space Shuttle Columbia explodes shortly after launch, killing all 7 astronauts; The United State launches a war against Iraq – siting evidence that the regime of Saddam Hussein is building weapons of mass destruction and is  imminent threat to world security; Sky marshals are introduced on US airlines in an attempt to prevent hijackings; Fred Rogers, the beloved host of the children's television show MR ROGERS NEIGHBORHOOD, dies at age 74; And some of the more interesting newspaper headlines include:    
"Federal Agents Raid Gun Shop & Find Weapons " 
"Safety Meeting Ends In Accident."
"Alton Attorney Accidently Sues Himself"
"Nuclear Plant Gets Glowing Report"
Paperfest and the Village of Combined Locks will host the 33rd Annual Paperfest and Combined Locks Centennial Celebration "Do Over" from July 15th – July 18th at Memorial Park in Combined Locks.
This is a free-admission community driven festival featuring live music, great food, sporting events, games, carnival rides, family fun, fireworks, a lumberjack show, trolley rides, a Centennial Parade, and much more!
Paperfest strengthens our community by utilizing the expertise of our volunteers and generosity of our great sponsor partners to bring the community together and have fun!
Prospect Street Road Project
Prospect Street from Park Street west to Elm Street will be closed for construction from June 14th through June 30th.  Please use an alternate route.